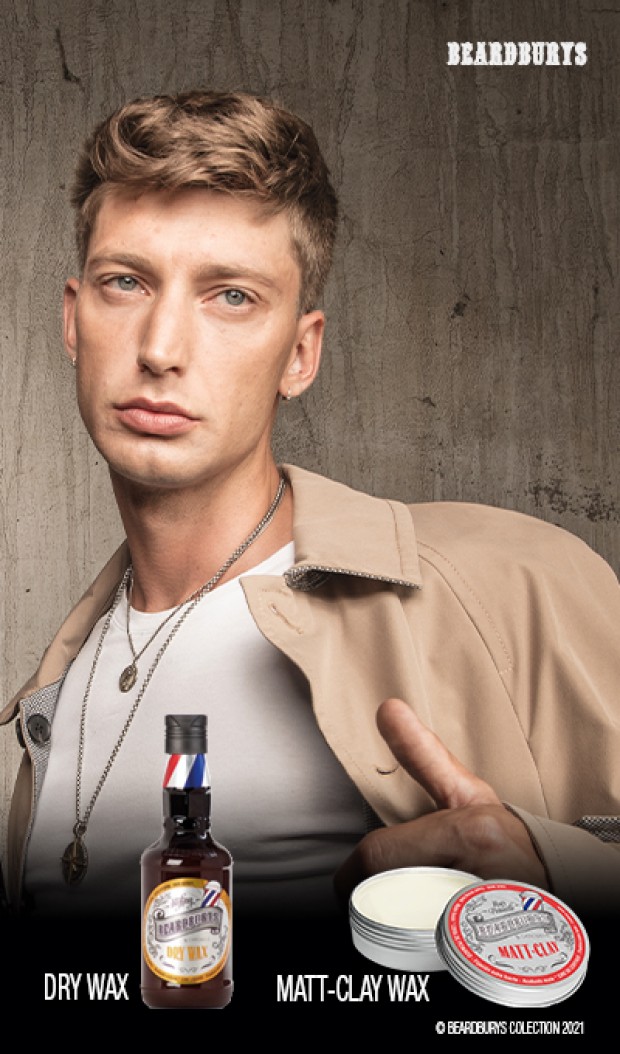 DRY FINISH HAIRSTYLE
EN 2 PASOS
PASO 1 -We apply our DRY WAX on wet hair.


PASO 2 - We apply MATT CLAY Wax, to give texture and definition to the finish. .


WET FINISH HAIRSTYLEP
EN 1 PASO
Would you like to know more?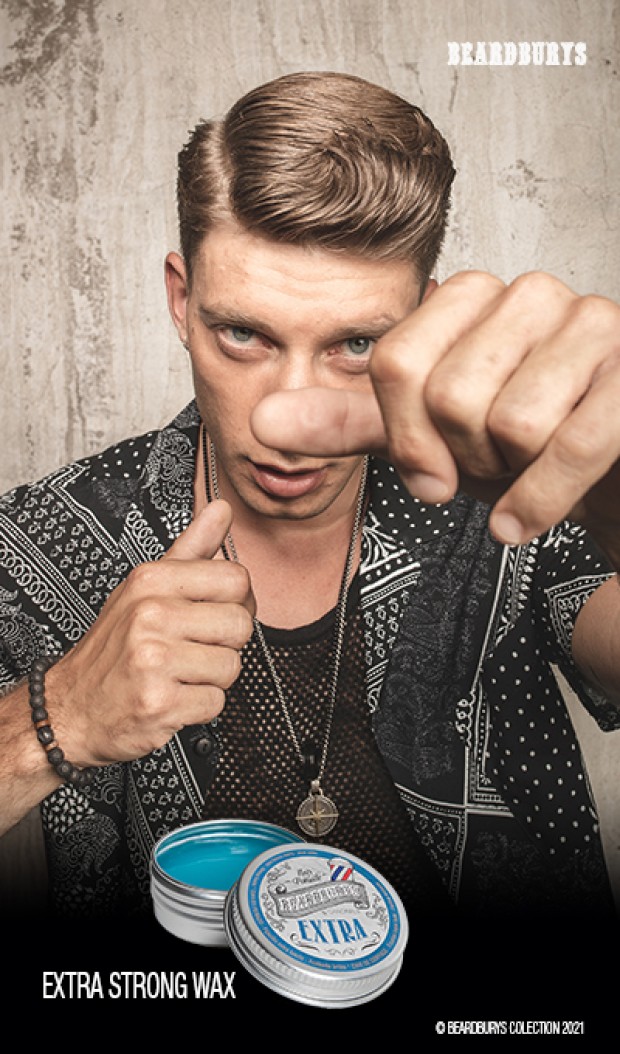 MEDIUM CUT WITH ACTIVE TEXTURE
A very trendy haircut, graduated on the sides and back and an active texture on top.
We are looking for a natural, tousled and textured finish.
How do we achieve an active texture?
Follow these 2 steps:
1.- We apply our Dry Wax on wet hair. What we achieve by applying this product is to create great volume and generate texture.
Dry Wax:

• Perfect for creating lifted looks with great volume.
• Long-lasting medium hold.
• Softens and prevents moisture loss.
• Creates looks with a glossy, polished finish.

2.- After blow-drying the hair freeing it from all possible humidity, activating our Dry Wax and achieving the desired volumen. Then, we apply Matt Clay Wax, to give texture and definition to the finish.
Matt Clay Wax:

• Water based wax.
•Creamy texture for easy application.
•Creates natural styles for longer.
•Matt finish and extreme hold.

This hairstyle, while also a classic, will continue to be on trend this season. It's great for creating a clean, more refined look. To achieve this hairstyle:
Just follow this step:
1.- Wet the hair with water and apply EXTRA STRONG wax.
Extra Strong Wax:

• Water-based wax.
• Creates daring and risky styles with a glossy effect.
• Strong hold so that your hairstyle stays in place all day long.

Esta web utiliza cookies propias y de terceros para el correcto funcionamiento del sitio y generar estadísticas de uso.
Al continuar con la navegación entendemos que da su consentimiento a nuestra política de cookies.

Continuar

Información útil sobre el uso de cookies en este sitio Web

En cumplimiento con lo establecido en el artículo 22.2 de la Ley de Servicios de la Sociedad de la Información y del Comercio Electrónico (LSSI) y en adecuación con la Directiva Europea 2009/136/CE, le informamos que este sitio Web acepta el uso de cookies.

¿Qué son las cookies? Una cookie es un pequeño fichero de texto que almacena información útil en el disco duro de su ordenador. Cada vez que visite este sitio Web, nuestro servidor reconocerá la cookie y nos proporcionará información sobre su última visita.

¿Puedo evitar el almacenamiento de cookies en mi ordenador? La mayoría de los navegadores aceptan la utilización de cookies de forma automática, pero usted puede modificar la configuración del navegador para que no lo haga.

¿Qué tipo de cookies utiliza este sitio Web? En concreto, este sitio utiliza las siguientes cookies:
Cookies analíticas.- Las cookies analíticas recogen información para evaluar el uso que usted hace de la Web y la actividad general de la misma. La analítica de la Web es la medida, recolección, análisis y creación de informes de los datos de Internet con el propósito de entender y optimizar el uso de sitio Web.
Cookies técnicas.- Las cookies técnicas son las estrictamente necesarias para el uso de este sitio Web.
Cookies funcionales.- Las cookies funcionales son las estrictamente necesarias para proporcionar los servicios solicitados por los usuarios en este sitio Web.

Desactivar cookies:
- Chrome, desde http://support.google.com/chrome/bin/answer.py?hl=es&answer=95647
- Explorer, desde http://windows.microsoft.com/es-es/windows7/how-to-manage-cookies-in-internet-explorer-9
- Firefox, desde http://support.mozilla.org/es/kb/habilitar-y-deshabilitar-cookies-que-los-sitios-we
- Safari, desde http://support.apple.com/kb/ph5042

Si en algún momento desea hacernos llegar algún comentario o solicitar más información sobre el uso de cookies en este sitio Web, puede notificárnoslo por correo electrónico a la dirección hello@beardburys.com

Cerrar