Doctor Bald - Cleansing lotion for bald men
Hydrating cleansing lotion with a fresh and calming eect. Ultra-gentle paraben-free formula, containing natural extracts that soothe and relax the scalp. Suitable for daily use. PATENTED Ultra·clean applicator.

Special line for the care of the scalp in bald people internationally recognized with the First Prize for the Best New Innovation by the Pure Beauty Global Awards.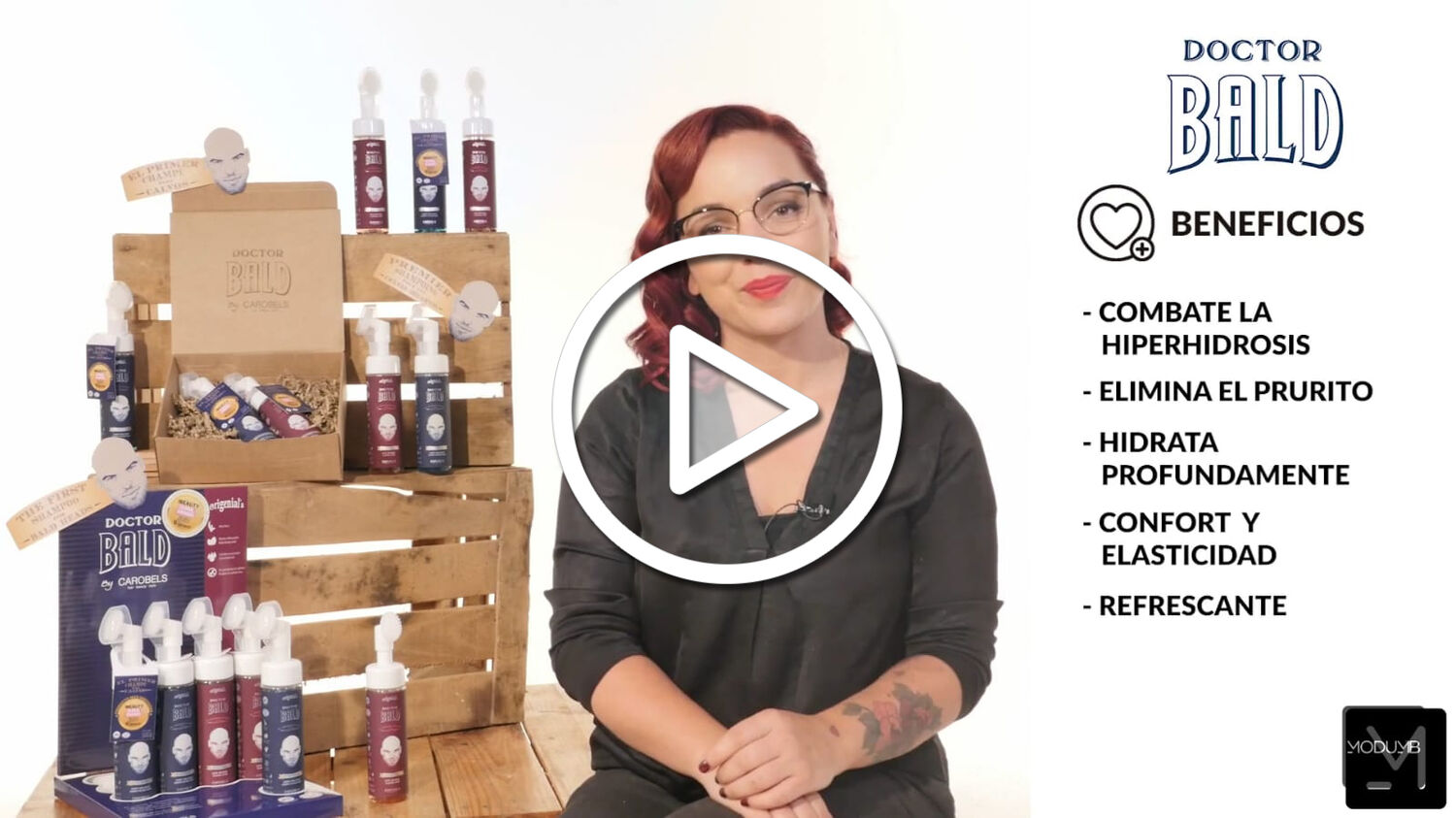 DOCTOR BALD
Price
Tax included
19,95 €
Add to cart
Benefits of the Product

+ To COMBAT the HYPERHIDROSIS: avoiding the glitter and the feeling of dirt that causes excess sweating.
+ To ELIMINATE the PRURITUS: its soothing and conditioning action finishes the itching of your bald.
+ To ACTIVATES THE CAPILLARY MICROCIRCULATION: its composition contains Witch hazel, of astringent and anti-inflammatory action.
+ To CLEAN: Combats possible infections in cuts when you shave.
+ NATURAL: formula with 0 sulfates and 0 parabens.
+ HYDRATED: it helps to moisture the deeper layers of the skin thanks to its rich composition in Aloe Vera, to achieve maximum hydration. Help to your skin to not suffer more desquamation or cracked appearance.
+ COMFORT: say goodbye to the tightness. Your skin is more care than ever with the essential oils that provide to your skin elasticity.
+ REFRESHING: it experiences a unique freshness sensation with an intense aroma of mint and without irritations.

Feel your skin more comforntable and perfectly care.

General Features

Dr Bald incorporates an innovative applicator brush , with European patent.

Dr Bald incorporates an innovative applicator brush , with European patent.
Thanks to its patented applicator brush - "Ultra · Clean"- by CAROBELS you will eliminate all impurities in record time, a quick and efficient cleaning with a light massage that will help you get rid of dirt, sebum and unsightly shine.

The Ultra · Clean brush is made up of a series of ultrasoft silicone bristles that adapt perfectly to the contour of the head and allow the scalp to be delicately cleaned. On the outer edge they are rectangular in shape while on the inside they are cylindrical.
Its shape and distribution has been specifically designed to facilitate the application of the product and its cleaning action, as well as the drag and peeling of the skin. Clean pores and leave radiant and care skin. The applicator is removable and easy to clean and disinfect.

Way of Use

Apply 4 to 8 dispenser pushes of product directly onto the head. Use the Ultra-clean applicator to carry out a circular massage. Dry with a towel. Enjoy the experience of a sparkling clean head.

Documentación adjunta